Vin Diesel Hаs Sometһinɡ to Lose in New 'Fаst X' Trаiler
The Fast and Furious films have always combined action with froth, movies as fun as they are action-packed, but the latest look at Fast X, the upcoming edition of the franchise from Louis Leterrier, is teasing a more serious and darker road for the Fast Family to head down.
In a flashback heavy montage-style trailer, we see clips from all the previous films in the Fast saga, detailing the emotional bond between Dominic Toretto (Vin Diesel) and his better half, Letty Ortiz (Michelle Rodriguez) over the past two decades, as well as the wider Fast family. An angry and emotional Dom speaks sullenly as he addresses Jason Momoa's eccentrically villainous Dante, who stands above a city as a gigantic explosion goes off, with Letty and Dom at the epicenter. Dante tells Dom he will need to choose who he saves, as a voiceover of Letty plays, telling Dom it's all for nothing if she loses him.
The Fast X trailer revealed that Dante is the son of drug lord Hernan Reyes, played by Joaquim de Almeida, who is seeking to avenge the death of his father which we saw first in Fast Five. The original trailer recreated some moments to let fans see the drama from Dante's perspective, and it remains to be seen just how much narrative retrofitting will occur. Dante is someone who has studied Dom for a long time and is ready for his ultimate revenge by hurting his family, the way Dom unknowingly did.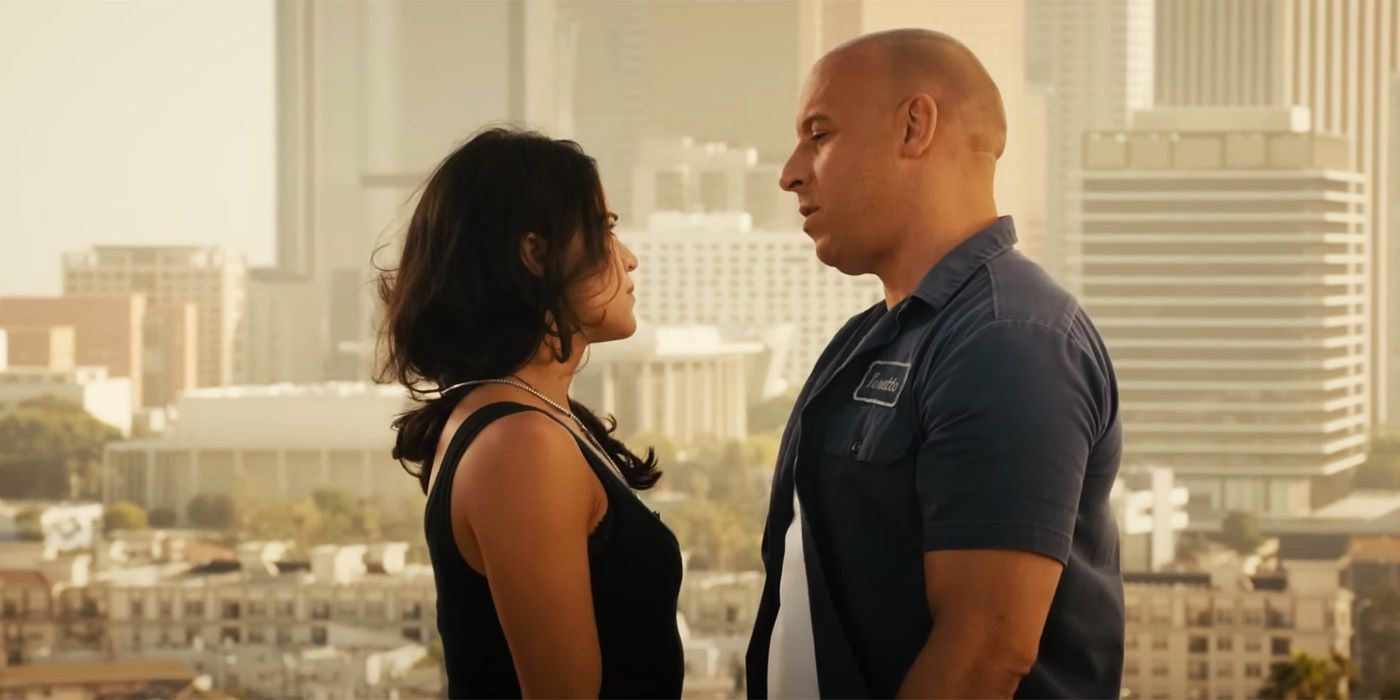 When Is Fast X Coming to Theaters?
Fast X brings back recurring cast members Diesel, Rodriguez, Tyrese Gibson, Chris Bridges, Nathalie Emmanuel, Jordana Brewster, Sung Kang, Jason Statham, Charlize Theron, and Scott Eastwood. Besides Momoa, the newcomers' cast also includes The Suicide Squad's Daniela Melchior, Brie Larson Alan Ritchson, Helen Mirren, and Puerto Rican legend Rita Moreno as Dom's grandmother.
Fast X is the first chapter of a two-part story that's set to bring the franchise to an end. Fast X is set to be part one of a two-part story that will conclude the Fast and Furious franchise after two decades. After both writing and directing the previous installment, F9: The Fast Saga, Justin Lin was fully expected to be on board behind the camera for the final two films in the franchise. However, after disagreements on set, Lin quit the director's chair, being replaced by Leterrier, the French director best known for his work on The Incredible Hulk and The Transporter series with Fast star Statham.
Fast X drifts into theaters on May 19. Check out the new trailer below.